I've noticed an annoying error while trying to add a video to my Google Places account.
You can upload your video to Youtube.com, paste your video URL in the field, press the "Add Video' button, and it still says 'invalid video.'...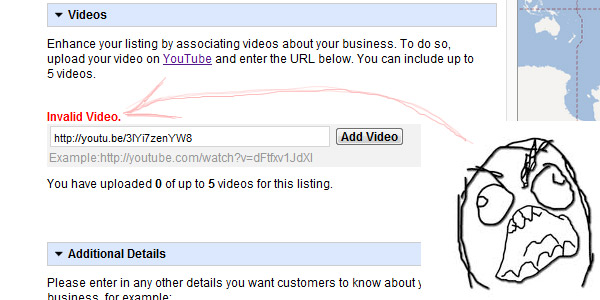 Fix
Here's how to get around the 'invalid video' error.
You'll notice that your video URL ends in either a forward slash or an equal symbol proceeded by a group of numbers and letters like this: http://youtu.be/3IYi7zenYW8 or this  http://www.youtube.com/watch?feature=player_embedded&v=3IYi7zenYW8
Take the group of letters and numbers and put this url before it 'http://youtube.com/watch?v='.
Example: http://youtube.com/watch?v=3IYi7zenYW8
Now place this new version of your video URL in the Google Places 'Add Video' field, and it will work.