Sense I upgraded to Windows 7 I've been having problems with Skype. Not receiving phone calls and sometimes people can't hear me when I call them. Sometimes my number appears as someone else. I was using version 5.9.0.115.
Skype problem in Windows 7 Solution
Upgrade to Skype version 5.9.0.123 http://www.skype.com/intl/en/get-skype/on-your-computer/windows/ or skype - Business Version 10 http://www.skype.com/intl/en/business/download/. Once I upgraded the problems went away.
You should be automatically prompted to upgrade Skype when you log on when there's a newer version out.

If you're not automatically prompted to upgrade your skype when you log on, try doing it manually.
Go to http://skype.com and click on 'Get Skype'.
Click on Windows or WIndows (Business).
Click on the 'Download Skype' button.
Download the newest version.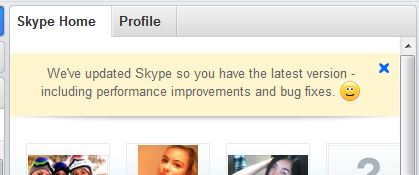 The problem where your number appeared as other numbers when calling people shouldn't happen anymore once you setup the caller ID. If you aren't hearing a ring noise when people call you on Skype try this. If you can't switch your Skype to online mode, go here.